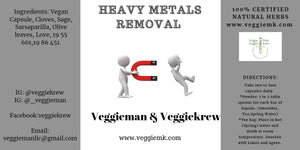 ➕️Install tech or work around technology equipment this product is for you. 
➕️Heavy gamer and have been feeling sluggish and defeated this is for you. (Safe for kids as well) 
➕️Currently doing radiation or around heavy radiation this product is for you. Cleanse the blood and body of impurities and replenish it with nourishment. 
*These statements have not been evaluated by the FDA. This product is not intended to diagnose, treat, cure, or prevent any disease. If you are suffering from illness or taking medications be sure to consult with your medical practitioner before you begin taking any supplements.